Shoulder Instability / Labral Tear
Instability of the shoulder is a common injury of the shoulder joint. The shoulder joint is a highly mobile joint which requires many structures for stability. The static stabilizers consist of the bony humeral head (ball), bony glenoid (socket), labrum, ligaments, and capsule. Dynamic stabilizers are the muscles about the shoulder including the rotator cuff muscles, deltoid muscle, pectoralis muscle, and scapular stabilizing muscles. Neurologic function is also imperative for proper proprioceptive awareness (the body's ability to sense its location) and proper scapular movements.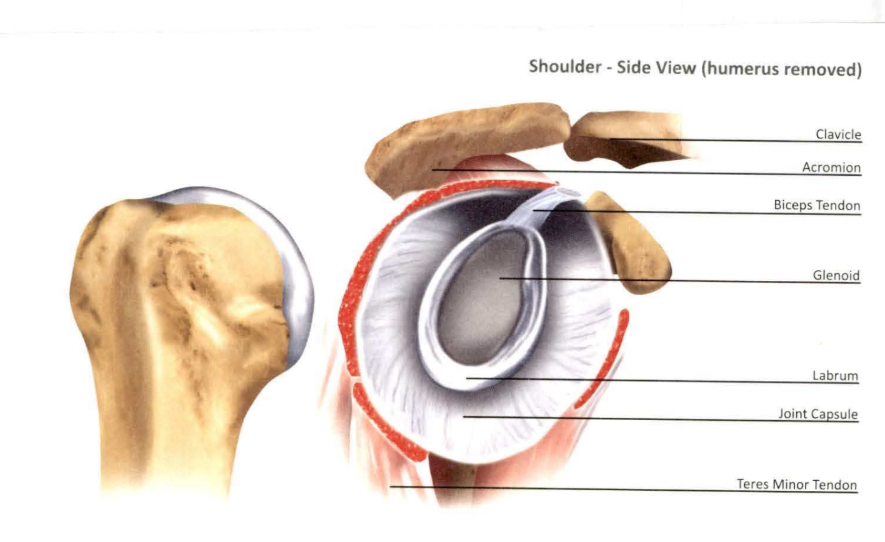 Instability of the shoulder comes in three major forms: Anterior, Posterior, and Multi-directional (MDI). Anterior instability is the most common form of instability and usually involves a tear in the anterior-inferior glenoid labrum and capsule off the bony glenoid called a Bankart lesion. Often this is associated with a bony depression fracture of the posterior-superior humeral head called a Hill-Sachs lesion. Surgical repair usually consists of repairing the Bankart lesion and tightening of the ligaments through an arthroscopic or open approach using suture anchors. Large bony glenoid injuries may require screw fixation to restore stability. In patients with large bony defects or previously failed repairs, a Latarjet (coracoid transfer) or bone graft procedure may be required.
Large rotator cuff tears in patients older than 50 years old, may result from the dislocation and require early repair. Axillary nerve injuries may be associated with a traumatic dislocation and may require months for the nerve to recover in order to regain function of the arm.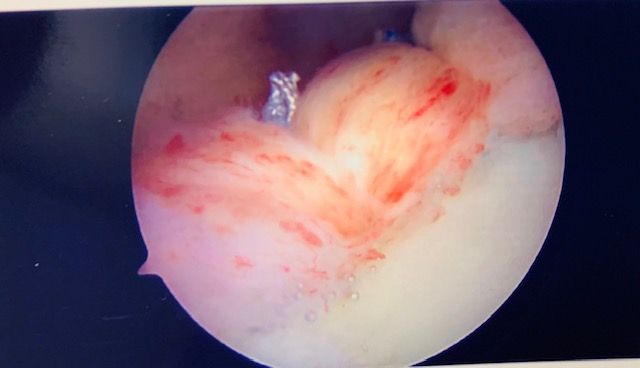 SLAP Tear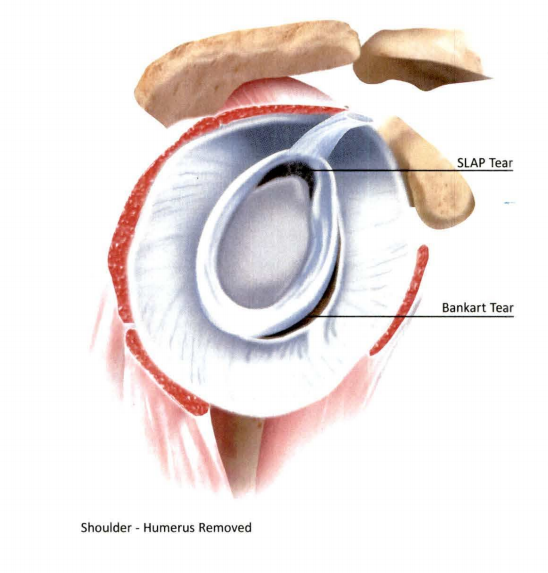 The glenoid labrum is a cartilaginous ring that surrounds the bony shoulder socket (glenoid). It creates stability by adding depth to the bony socket and provides a gasket-like effect to help hold the humeral bone in place. It is also the attachment site for ligamentous attachment between the humerus and glenoid. The superior portion of the glenoid labrum is the attachment site of the long head of the biceps tendon. A tear here is called a SLAP (Superior Labral Anterior Posterior) tear. Lesions in this location can vary regarding their significance from congenital variations to degenerative changes in the labrum that may pose no problems for the patient. A symptomatic lesion in the superior labrum may require SLAP repair with an arthroscopically placed labral suture anchor or tenodesis (anchoring tendon to bone) of the biceps tendon.
For more information, visit orthopedia.com